𝘍𝘰𝘳 𝘵𝘩𝘦 𝘴𝘦𝘤𝘰𝘯𝘥 𝘵𝘪𝘮𝘦 𝘸𝘦 𝘩𝘦𝘢𝘳𝘥 𝘩𝘦𝘳 𝘷𝘰𝘪𝘤𝘦, 𝘵𝘩𝘪𝘴 𝘵𝘪𝘮𝘦 𝘸𝘦 𝘨𝘰𝘵 𝘴𝘶𝘴𝘱𝘪𝘤𝘪𝘰𝘶𝘴.
𝘚𝘩𝘦 𝘭𝘦𝘥 𝘶𝘴 𝘩𝘦𝘳𝘦 𝘸𝘩𝘦𝘳𝘦 𝘯𝘰𝘯𝘦 𝘩𝘢𝘷𝘦 𝘣𝘦𝘦𝘯, "𝘞𝘩𝘦𝘳𝘦 𝘛𝘩𝘦 𝘍𝘭𝘰𝘸𝘦𝘳𝘴 𝘎𝘳𝘢𝘯𝘵 𝘠𝘰𝘶 𝘞𝘪𝘴𝘩𝘦𝘴."
𝘚𝘰 𝘰𝘯𝘤𝘦 𝘢𝘨𝘢𝘪𝘯 𝘸𝘦 𝘩𝘢𝘥 𝘯𝘰 𝘤𝘩𝘰𝘪𝘤𝘦 𝘣𝘶𝘵 𝘵𝘰 𝘱𝘪𝘤𝘬 𝘶𝘱 𝘰𝘶𝘳 𝘥𝘳𝘶𝘮𝘴 𝘢𝘯𝘥 𝘣𝘢𝘴𝘴.
𝘈𝘯𝘥 𝘴𝘵𝘢𝘳𝘵𝘦𝘥 𝘤𝘳𝘦𝘢𝘵𝘪𝘯𝘨 𝘮𝘦𝘭𝘰𝘥𝘪𝘦𝘴 𝘧𝘰𝘳 𝘵𝘩𝘪𝘴 𝘶𝘯𝘥𝘪𝘴𝘤𝘰𝘷𝘦𝘳𝘦𝘥 𝘱𝘭𝘢𝘤𝘦.
Black Narcissus once again brings a wealth of haunting melodies and enchanting rhythms on their second album.The sound that the sympathetic duo managed to squeeze out of their minimalist instruments – consisting only of a drum and bass guitar – sounded so overwhelming and grand that it seemed almost unthinkable that a two-man formation could do this.
It is clear that Thomas Wuyts (drums) and Jesse Massant (bass) – just like for their first album Beyond The Whispers Of Common (2018) – also put passion and a lot of work into these nine tracks.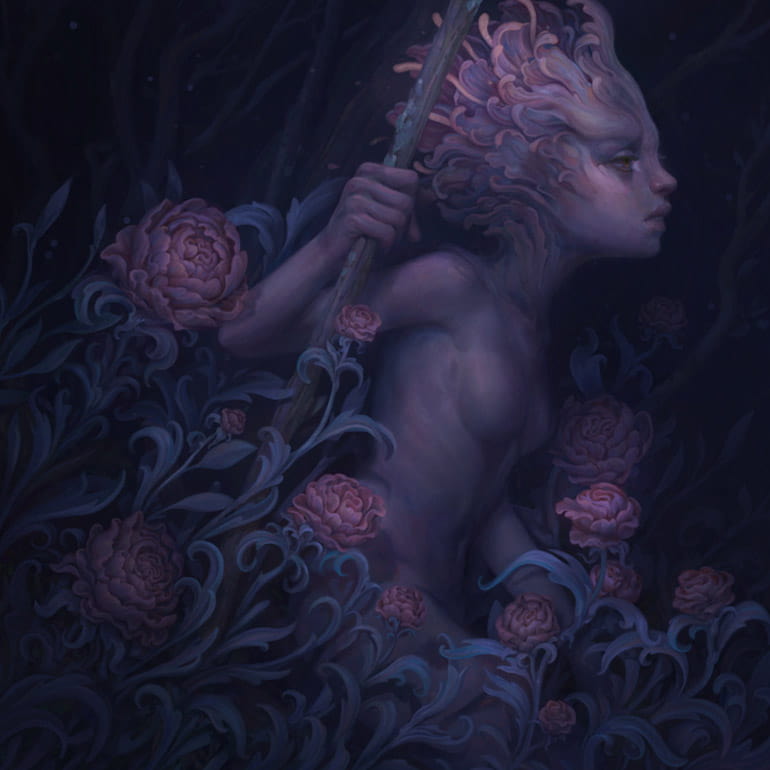 Tracklist:
1. Unlike The Fire That Forged The Blade, I Remain Unkindled
2. Within The Splendor Of Her Light We Danced Endlessly
3. The Ninth Gate Part I
4. The Ninth Gate Part II
5. Black Shapes In The Grey Night
6. She Yields To None But Time
7. The Breathless Hour
8. There Be Dragons
9. In A Forest Of Nothingness I found Myself
Follow Black Narcissus:
Facebook  |  Bandcamp  |  Instagram